My Blog
Posts for tag: laser dentistry
By George R. Shepley, DDS
November 21, 2018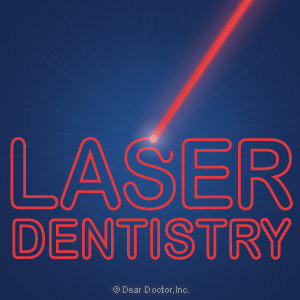 We've developed a number of effective treatments for periodontal (gum) disease. Depending on how far and deep a patient's infection has advanced, treatment can be quite invasive and even require surgery. The more invasive, the longer and more uncomfortable the healing process can be.
But using a medical laser could make that less so. Although its use for gum disease treatment is still in its infancy, the latest observations from the field seem to show patients undergoing laser treatment may have less tissue trauma and bleeding, less discomfort after the procedure and quicker healing times.
Gum disease is a bacterial infection mostly caused by dental plaque, a thin film of food particles that build up on teeth in the absence of effective oral hygiene. The infection can advance deep below the gum line, weakening gum attachment to teeth and destroying supporting bone. Ultimately the affected teeth can be lost.
Traditionally, the only way to stop the disease is to manually remove plaque buildup on teeth and gum surfaces, which is continuing to sustain the infection, with special hand instruments called scalers or ultrasonic equipment. Because it's important to remove as much plaque and diseased tissue as possible, we may need to perform a surgical procedure called flap surgery to move some of the gum tissues out of the way to get to these deeper areas. As with any surgery, this can create tissue trauma that may cause discomfort during the healing process.
Our new alternative is to use an Nd:YAG medical laser in a procedure known as Laser Assisted New Attachment Procedure or LANAP. With light energy delivered through a small fiber no more than the width of three human hairs, the laser can pinpoint diseased tissue and destroy bacteria through intense heat. Because of the laser beam's tiny width and pulsing action, healthy tissue is at less risk for trauma than with the traditional treatment.
Coupled with other techniques, LANAP procedures could remove as much infected tissue and plaque as traditional methods, but with less healthy tissue trauma. In the future, then, patients with advanced gum disease undergoing laser treatment could have less bleeding and discomfort and faster healing times.
If you would like more information on treating gum disease, please contact us or schedule an appointment for a consultation. You can also learn more about this topic by reading the Dear Doctor magazine article "Treating Gum Disease with Lasers."
By George R. Shepley, DDS
October 12, 2018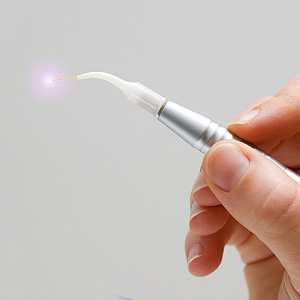 Periodontal (gum) disease is potentially devastating to your teeth, gums and bone. To fight it we have to remove the substance that causes and sustains the disease from all oral surfaces — a thin layer of bacteria and food particles known as plaque.
To accomplish this task, we use a variety of hand instruments called scalers to mechanically remove plaque and calculus (hardened plaque deposits), as well as ultrasonic equipment to vibrate plaque loose and flush it away with water. If we detect plaque deposits well below the gum line and around the tooth roots, we may need to use other techniques like root planing or surgery to access these deeper areas.
 While gum disease is persistent and aggressive, these traditional techniques have proven quite effective in controlling the infection and restoring health to diseased gums. Yet like other aspects of medicine and dentistry, technological advances have created a new option for gum disease treatment: the Nd:YAG laser.
The Nd:YAG laser is named for the crystal it uses to produce a narrow and intense beam of light on a specific frequency. In recent years it's become an important surgical tool because it can distinguish between diseased and healthy tissue, destroying the former while not affecting the latter. It's being used now on a limited basis for treating gum disease, especially for removing infected tissue in deep pockets that can form below the gum line, and for removing plaque and calculus from root surfaces.
 Because of its precision, early evidence of effectiveness is encouraging: minimal tissue damage and swelling, less bleeding and reduced patient discomfort after treatment. The heat from the laser has also been shown to kill bacteria and essentially sterilize the area.
Still, the findings aren't conclusive enough as to whether lasers are superior in most circumstances to traditional scaling methods. For the time being, we'll continue to use the tried and true methods for removing plaque and calculus. But as laser technology advances, the time may come when this new approach to gum disease treatment will become a more prominent and beneficial option for patients.
If you would like more information on your treatment options for gum disease, please contact us or schedule an appointment for a consultation. You can also learn more about this topic by reading the Dear Doctor magazine article "Lasers Versus Traditional Cleanings for Treating Gum Disease."