My Blog
Posts for: February, 2021
By George R. Shepley, DDS
February 20, 2021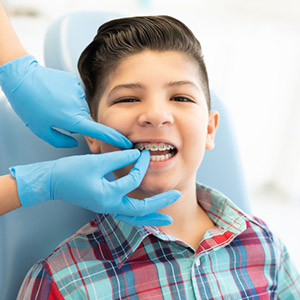 In any given year, 4 million tweens and teens are in the process of having their teeth straightened with braces or clear aligners. It's so common we tend to consider orthodontic treatment for young people as a rite of passage into adulthood.
But it doesn't necessarily have to be that way—it might be possible to stop or at least minimize a poor bite before it fully develops. That's the goal of interceptive orthodontics—treatments that head off or "intercept" a bite problem early.
The goal isn't necessarily to reposition misaligned teeth, but to correct a problem that can lead to misalignment. Here are some examples.
A narrow jaw. A narrowly developing jaw can crowd incoming teeth out of their normal positions. For the upper jaw, though, we can take advantage of a temporary separation in the bones in the roof of the mouth (palate) with a device called a palatal expander. Placed against the palate, the expander exerts outward pressure on the teeth and jaw to widen this separation. The body fills in the gap with bone to gradually widen the jaw.
Abnormal jaw alignment. It's possible for a jaw to develop abnormally during childhood so that it extends too far beyond the other. Using a hinged device called a Herbst appliance, it's possible to interrupt this abnormal growth pattern and influence the bones and muscles of the jaw to grow in a different way.
Missing primary teeth. An important role for a primary (baby) tooth is to hold a place for the future permanent tooth. But if the primary tooth is lost too soon, other teeth can drift into the space and crowd out the intended permanent tooth. To prevent this, we can insert a space maintainer: This simple looped metal device prevents teeth from drifting and preserves the space for the permanent tooth.
Although these and other interceptive treatments are effective, some like the palatal expander do their best work within a limited age frame. To take advantage of interceptive orthodontics in a timely manner, parents should seek a bite evaluation for their child from an orthodontist around age 6. The earlier we detect a growing bite problem, the greater your chances for successful intervention.
If you would like more information on treating emerging bite problems early, please contact us or schedule an appointment for a consultation. You can also learn more about this topic by reading the Dear Doctor magazine article "Interceptive Orthodontics."
By George R. Shepley, DDS
February 10, 2021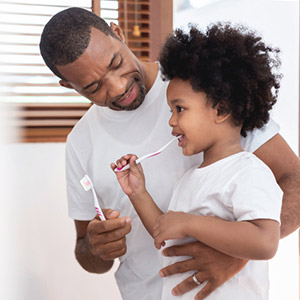 As they mature, your child's teeth, gums and jaws develop—if all goes well, they'll all be healthy and functioning normally when they enter adulthood. But tooth decay and other problems could derail that development and cause lingering oral health issues later in life.
Following these 4 guidelines now during your child's early years will help ensure their teeth and gums have a healthy future.
Start oral hygiene early. There's no need to wait for their first teeth to come in to begin your child's regular oral hygiene. Start with wiping their gums right after feeding with a clean wet cloth to minimize bacterial development. Then, start brushing as soon as teeth appear—to begin with, use a slight smear of toothpaste on the brush. As they mature, teach them to brush and later floss for themselves.
Check your water. Most utilities add tiny traces of fluoride to their drinking water supply. If your water supplier does, it can make a big difference (along with fluoride toothpaste) in helping your child avoid tooth decay. If your system doesn't, then speak to your dentist about whether your child could benefit from topical fluoride applied directly to their teeth.
Keep a check on sugar. Decay-causing bacteria thrive on the sugar added to processed foods, candies and many beverages. Even milder forms of sugar like lactose found in milk or formula can stimulate bacterial growth. So, in addition to daily brushing and flossing, do your best to minimize sugar in your child's diet. And don't put infants or toddlers to bed with a bottle filled with any liquid other than water.
See the dentist. Starting around their first birthday, regular dental visits can help keep your child's dental development on track. Dental visits are also an opportunity for preventive treatments against decay like sealants or topical fluoride. Your dentist may also detect the early signs of bite problems that if addressed now, could lessen their impact later in life.
Your child's dental health could get off course before you even realize it. But partnering with your dentist, you can help make sure your child's teeth and gums have a bright and healthy future.
If you would like more information on how best to care for your child's oral health, please contact us or schedule an appointment for a consultation. You can also learn more about this topic by reading the Dear Doctor magazine article "Top 10 Oral Health Tips for Children."