My Blog
Posts for: December, 2020
By George R. Shepley, DDS
December 21, 2020

Dental implants are a reliable way to replace teeth. More than 95% of implants survive ten years after their installation, and many of these could conceivably continue for decades.
But that still leaves a tiny few that don't reach the ten-year mark. Some fail early because the implant didn't integrate fully with the bone to create a durable hold. But others fail later—usually for one of two major causes.
Some failures occur due to over-stressing of the implant from abnormally high biting forces, usually because of teeth grinding. People who have this involuntary habit generate excessive force as they grind their teeth, which can damage implants (as well as natural teeth). To reduce this force, a patient's dentist can fit them with a biteguard they wear in the mouth to prevent teeth from making solid contact with each other during a grinding episode.
Fortunately, teeth grinding isn't that prevalent among adults—but that can't be said about the other major cause for implant failure: periodontal (gum) disease. This is a bacterial infection caused by dental plaque, a thin, bacterial film that accumulates on teeth. The implant itself isn't affected by the infection, but the gums and underlying bone supporting the implant can be.
Implants are most in peril from a form of gum disease called Peri-implantitis, which spreads deeper into the gum tissues around implants faster than infections around natural teeth. That's because implants lack the gum attachment of real teeth, which supply a collagen barrier that slows the spread of infection. Peri-implantitis can quickly infect the supporting bone and eventually weaken its connection with the implant.
Because of its aggressiveness and speed, we must diagnose and treat peri-implantitis as soon as possible to limit any damage to the support structures around an implant. If you notice any swollen, reddened or bleeding gums, you should call your dentist as soon as possible for an examination.
And in light of this potential danger to your implants, you should also strive to prevent gum disease through daily oral hygiene. Brushing and flossing your teeth, including around your implants, removes harmful plaque buildup. This daily habit and regular dental cleanings will help you avoid a costly gum infection and ensure your implants are there for years to come.
If you would like more information on dental implants, please contact us or schedule an appointment for a consultation. You can also learn more about this topic by reading the Dear Doctor magazine article "Dental Implants: A Tooth-Replacement Method That Rarely Fails."
By George R. Shepley, DDS
December 10, 2020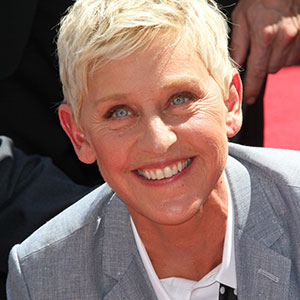 This year's Carol Burnett Award, presented at the Golden Globes, goes to Ellen DeGeneres for her "outstanding contributions to the television medium on or off the screen." This is the latest in a long list of honors for the comedienne, talk show host and activist that includes Emmys, Grammys and Teen Choice Awards. And one not quite as well-known: a 2004 "Flossy" award.
DeGeneres received this honor from the National Flossing Council in recognition of her passionate promotion of oral hygiene, particularly flossing. She wrote about its virtues in her 2003 book, The Funny Thing Is…., saying, among other things, "Don't even think for a second that you can get away with not flossing."
DeGeneres's motivational cheerleading for flossing is helpful and necessary because, well, many of us just don't like doing it. It requires more manual dexterity than its more popular sibling, brushing. And the tendency for the floss to gunk up with plaque residue for some is simply unpleasant.
Mainly, though, many folks think brushing is enough. Not so fast, according to dental professionals. While brushing removes disease-causing bacterial plaque from broad tooth surfaces, it can't effectively get into the spaces between teeth. It takes flossing to clear plaque from these more difficult areas.
But don't fret: There are ways to make flossing an easier—and more pleasant—task.
Ask us for help. As we said before, flossing does take some hand dexterity and coordination to perform. You may also wonder if you're doing it effectively. We can provide training and tips on how to be a more effective flosser at your next visit.
Practice, practice, practice. You probably think nothing of riding a bicycle, and yet it probably took you weeks or months as a kid to become proficient. Similarly, your first attempts at flossing might feel awkward, but you'll improve with practice, so don't give up.
Brush before you floss. Most people floss before brushing, but if you tend to encounter a lot of soft plaque debris that makes flossing "icky" for you, then try brushing first to clear a good portion of it out of the way before you floss. Just be aware, most professionals believe that flossing first is better because it loosens up debris between teeth so the bubbles from the toothpaste can carry it away. But any flossing is better than no flossing!
Try flossing tools. For some people, floss picks, small pre-threaded tools you can use with one hand, seem easier to maneuver than regular floss thread. If you have issues with manual dexterity, an oral irrigator can make the task easier: This handheld device uses a stream of pressurized water to loosen and flush away plaque between teeth.
So, follow Ellen DeGeneres's advice she gave Tulane University graduates during a commencement speech: "Remember to exfoliate, moisturize, exercise…and floss." The latter, along with brushing, will certainly help keep your teeth and gums healthy.
If you would like more information about best oral hygiene practices, please contact us or schedule an appointment. To learn more, read the Dear Doctor magazine article "Daily Oral Hygiene."