My Blog
Posts for: February, 2020
By George R. Shepley, DDS
February 14, 2020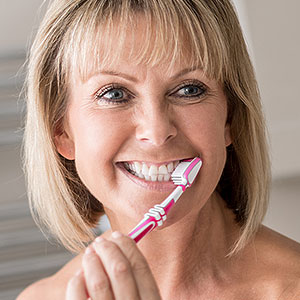 In the world of movies and television, the lead actors get the lion's share of the credit. In reality, though, there wouldn't be much of a show without the supporting cast. You'll find a similar situation in your mouth: While your teeth get most of the attention, another dental structure plays a critical supporting role—your gums.
It's only fitting, then, that we put the spotlight on your gums, especially in February. The second month of the year is Gum Disease Awareness Month, when we highlight the importance of our gums and the dangers they face.
While the gums are an important part of your smile, they're not just for show. Your gums play a critical role in helping to keep your teeth securely attached within the jaw. Their network of blood vessels also supplies nutrients and disease-fighting agents to your teeth. We're not exaggerating, then, when we say your teeth can't survive without them.
But although they're resilient, they do have one major vulnerability: a bacterial infection known as periodontal (gum) disease. Gum disease arises from bacteria that thrive within a thin, built-up film of bacteria and food particles called dental plaque. Untreated, an infection can advance deep into the gums, down to the tooth roots and jawbone.
Gum disease is as much a problem for your teeth as it is for your gums: Weakened gum attachment and loss of bone can put your teeth in danger of being lost. Fortunately, though, there are things you can do to keep gum disease from ruining your dental health.
Brush and floss. To prevent a gum infection, you must keep plaque from building up on your teeth. The best way is a combination of thorough brushing and flossing. Don't neglect the latter, which is necessary to remove hard-to-reach plaque between teeth. And do it every day—it doesn't take long for a gum infection to occur.
Get your teeth cleaned. Even the most diligent hygiene practice may still miss some plaque and its hardened form calculus (tartar). These stubborn deposits, though, are no match for our dental cleaning equipment and techniques. Semi-annual visits are also a good time to evaluate your overall dental health, including your gums.
See us at the first sign of infection. Gum disease is often symptomless, especially in the beginning. But there are signs to look for like gum swelling, redness or bleeding. If you notice any of these, see us as soon as possible. The sooner you begin treatment, the less harm the disease will cause.
Taking care of your gums isn't just good for your dental health—it's good for your overall health and well-being. It also doesn't hurt that your gums are good for your appearance as an important part of a beautiful smile.
If you would like more information about gum disease prevention and treatment, please contact us or schedule a consultation.
By George R. Shepley, DDS
February 04, 2020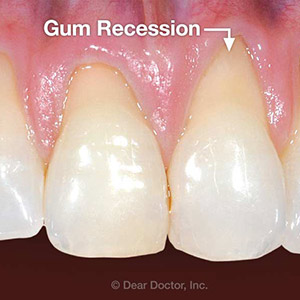 Your gums play an important role in dental function and health. Not only do they help anchor teeth in the jaw, the gums also protect tooth roots from disease.
But you can lose that protective covering if your gums recede or shrink back from the teeth. An exposed tooth is more susceptible to decay, and more sensitive to temperature and pressure.
Here are 4 causes for gum recession and what you can do about them.
Gum disease. The most common cause for gum recession is a bacterial infection called periodontal (gum) disease that most often arises from plaque, a thin film of bacteria and food particles accumulating on teeth. Gum disease in turn weakens the gums causes them to recede. You can reduce your risk for a gum infection through daily brushing and flossing to remove disease-causing plaque.
Genetics. The thickness of your gum tissues is a genetic trait you inherit from your parents. People born with thinner gums tend to be more susceptible to recession through toothbrush abrasion, wear or injury. If you have thinner tissues, you'll need to be diligent about oral hygiene and dental visits, and pay close attention to your gum health.
Tooth eruption. Teeth normally erupt from the center of a bony housing that protects the root. If a tooth erupts or moves outside of this housing, it can expose the root and cause little to no gum tissue around the tooth. Moving the tooth orthodontically to its proper position could help thicken gum tissue and make them more resistant to recession.
Aggressive hygiene. While hard scrubbing may work with other cleaning activities, it's the wrong approach for cleaning teeth. Too much force applied while brushing can eventually result in gum damage that leads to recession and tooth wear. So, "Easy does it": Let the gentle, mechanical action of the toothbrush bristles and toothpaste abrasives do the work of plaque removal.
While we can often repair gum recession through gum disease treatment or grafting surgery, it's much better to prevent it from happening. So, be sure you practice daily brushing and flossing with the proper technique to remove disease-causing plaque. And see your dentist regularly for cleanings and checkups to make sure your gums stay healthy.
If you would like more information on proper gum care, please contact us or schedule an appointment for a consultation. You can also learn more about this topic by reading the Dear Doctor magazine article "Gum Recession."