My Blog
Posts for: February, 2019
By George R. Shepley, DDS
February 19, 2019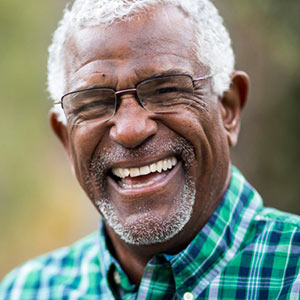 Like other aspects of our lives, aging can take a toll on our smile. Over a lifetime the effects of disease, teeth wearing and the foods we eat can cause our teeth and gums to look unattractive.
Here are 3 of the most common age-related dental problems and how we can help you "turn back the clock" on each one.
Discoloration. Teeth can dull and grow darker over time. And not just from what we eat or drink—age-related structural changes in the tooth can also cause discoloration. We can often alleviate external staining temporarily with teeth whitening. If the staining is heavy or it originates inside the tooth, then we can install life-like porcelain veneers or crowns to cover the discoloration. We can also use composite dental materials to alter the color of one darkened tooth so that it doesn't stand out from the rest of your teeth.
Wearing. Our teeth naturally wear down over time. If the wearing is excessive, though, teeth can look shorter and less youthful. Again, we can use veneers or crowns to change a tooth's outward appearance and make them look longer. We can also employ enamel contouring and reshaping that smoothes out sharper edges caused by wearing to give your teeth a softer, more youthful look.
Receding gums. On the other end of the spectrum, gums that have shrunk back or receded from the teeth can make them look much larger and unattractive. Our first step is to treat any gum disease present—the most common cause of recession—which often helps the tissues to regenerate. If your case is more advanced, though, you may also need grafting surgery to restore lost gum tissue. Using in-depth microsurgical techniques, surgeons attach grafted gum tissue at the recession site. Over time new tissue will grow, restoring adequate gum coverage.
You can also improve your appearance at any age with orthodontics. Besides a more attractive smile, properly aligned teeth tend to wear more slowly and evenly. This and proper daily oral hygiene and regular dental care can keep your teeth looking younger even in your later years.
If you would like more information on gaining a more youthful smile, please contact us or schedule an appointment for a consultation. You can also learn more about this topic by reading the Dear Doctor magazine article "How Your Dentist can help you Look Younger."
By George R. Shepley, DDS
February 09, 2019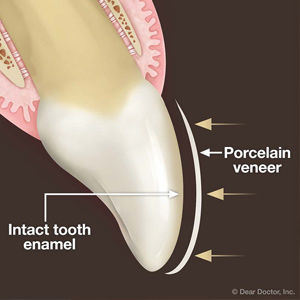 Dental veneers, thin layers of porcelain bonded to chipped, stained or slightly crooked teeth, are an effective and affordable way to transform your smile. Their color, translucence and shape blend so well with the rest of your teeth that it's often difficult to tell them apart.
But traditional veneers have one drawback: although they're less than a millimeter in width, they can still appear bulky on unprepared teeth. To help them look more natural, we often have to remove some of the enamel layer from the tooth surface. Enamel doesn't grow back, so this alteration is permanent and the prepared teeth will require a restoration from then on.
But you may be able to avoid this—or at least keep the alteration to a minimum—with no-prep or minimal-prep veneers, two new exciting choices in cosmetic dentistry. About the width of a contact lens, we can bond these much thinner veneers to teeth with virtually no preparation at all or, in the case of a minimal-prep veneer, needing only an abrasive tool to reshape and remove only a tiny bit of the enamel.
These ultra thin veneers are best for teeth with healthy enamel, and can be placed in as few as two appointments. And besides being less invasive, the procedure is reversible—we can remove them and you can return to your original look without any follow-up restoration. One caveat, though: because of the strong bonding process used, it's not always easy to remove them.
Although their thinness makes it possible to avoid or minimize alterations, there are some dental situations like oversized teeth that may still require extensive tooth preparation. With some poor bites (malocclusions) orthodontic treatment to straighten the teeth may also be needed first.
All in all, though, no-prep or minimal-prep veneers could help you avoid the permanent tooth alteration that usually accompanies their thicker cousins. What's more, you'll have the beautiful, transformed smile that veneers can achieve.
If you would like more information on minimal or no-prep veneers, please contact us or schedule an appointment for a consultation. You can also learn more about this topic by reading the Dear Doctor magazine article "No-Prep Porcelain Veneers."